Our Advantages:


1.Professional OEM/ODM manufacturer with over 12 years' experience.
2. Top Quality
3. Competitive Price
4. High precision, high quality, tight tolerance


1

Business Type:

OEM& ODM Manufacturer

2

Products Range:

Auto /Moto Parts, Machinery Parts, Hardware Accessories, Furniture Hardware etc

3

Materials:

Carbon & low alloy steel; Stainless steel; High alloy etc;

4

Surface
Treatment:

Annealing, Quenching, Tempering, Normalizing, Powder coating, Sand blasting, etc.

5

Part Unit Weight:

0.10KGS-70KGS

6

Quality control:

100% Inspection before shipment

7

Payment Term:

T/T, L/C,

8

Trade Terms:

FOB, CIF

9

Delivery Time:

20-30Days(According to The Order)

10

Oversea Market:

North America,South America,Europe,Asia,Middle East etc.

Product Display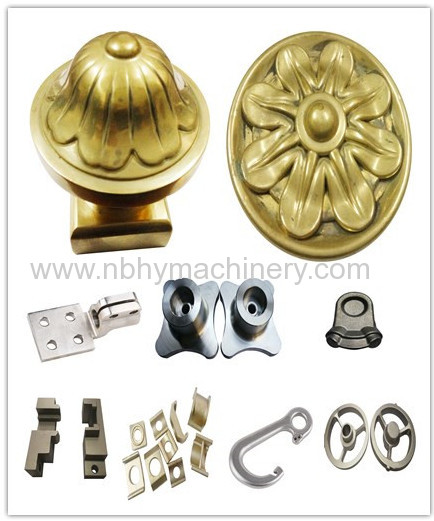 Tags: Forging Parts
What are the advantages of hot forging CNC machining sleeves compared to traditional manufacturing methods?
Hot forging CNC machining sleeves offer several advantages compared to traditional manufacturing methods:
Enhanced Strength: Hot forging increases the density and alignment of metal grains, resulting in a sleeve with improved mechanical properties, including higher tensile strength and resistance to wear and deformation.
Precision and Consistency: CNC machining ensures precise dimensions and tight tolerances, allowing for consistent and accurate production of sleeves with complex geometries.
Material Efficiency: Hot forging optimizes material usage, reducing waste and making it a more sustainable manufacturing process.
Customization: CNC machining allows for the creation of highly customized sleeves tailored to specific applications, meeting the exact requirements of various industries.
Cost-Effective: While the initial setup costs may be higher, hot forging CNC machining becomes cost-effective for large production runs due to reduced material waste, improved efficiency, and extended product lifespan.
High-Temperature Resistance: Hot forged sleeves are better suited for high-temperature and high-pressure applications, as they maintain their structural integrity under extreme conditions.
What applications and industries are typically used for this type of sleeve?
Hot forging CNC machining sleeves find applications in a wide range of industries that demand precision, strength, and durability. They are commonly used in the automotive sector for engine components, bearings, and transmission systems. In the aerospace industry, these sleeves are employed in critical aircraft components. Additionally, they are integral in the oil and gas sector for drilling and downhole tools, as well as in heavy machinery and industrial equipment. The versatility and reliability of hot forging CNC machining sleeves make them vital in various applications across these industries.
How does the manufacturing process and material selection of hot forging CNC machining sleeves affect their final quality and reliability?
Hot forging involves heating the metal to a specific temperature and then using CNC machining for precision forming. The quality and reliability of the sleeve are affected by these factors:
Material selection: The choice of substrate is crucial. Different alloys and metals have different properties, such as strength, heat resistance, and corrosion resistance.
Heat treatment: The heat treatment process, including quenching and tempering, can significantly affect the mechanical properties of the sleeve.
Tolerance and precision: CNC machining ensures strict tolerances and precise dimensions, which contribute to the quality of the final product.
Surface finish: The surface finish of the sleeve can affect its performance.
Quality control: Strict quality control measures are crucial for identifying and correcting any defects or deviations throughout the entire manufacturing process.
Testing and certification: Comprehensive testing, such as non-destructive testing and metallurgical analysis, can verify the quality and reliability of sleeves.