1

Business Type:

OEM& ODM Manufacturer

2

Products Range:

Auto /Moto Parts, Machinery Parts, Hardware Accessories, Furniture Hardware etc

3

Materials:

Aluminum: AL6061, AL6082, AL7075, AL5052, etc

Steel: S355ML, S420ML, P20, SKD11, SKD61, SKH9, SKH51, S45C, etc

Iron: 1C45, Y15, C1211, SUM2212L14, 1215, etc

Stainless steel: SUS304, SUS303, SU316L, SUS440C, etc

4

Machining:

cleaning, turning, milling, drilling, grinding ,CNC shearing,laser cutting, welding etc

5

Surface Treatment:

Polishing, Deburring, Chrom Plate, Ni Plated, Zine plated, Silver platinng

Clear anodizing, Anodizing black, Carburizing Nitriding, Heat Treatment, etc

6

Testing Equipment:

Hexagon CMM, TESA Height Gauge, Projector, Micrometer, etc

7

QC System:

100% Inspection before shipment

8

Payment Term:

T/T, L/C, D/P

9

Trade Terms:

FOB, CIF

10

Delivery Time:

20-30Days(According to The Order)

11

Our Advantages:

Reliable Quality

Competitive Price

High precision, high quality, tight tolerance

Continuous Improvement

On-Time Delivery

Customer Satisfaction

Excellent After-Sales Service

Our Factory
What are the Key Advantages of CNC Milling Machining in Precision Component Manufacturing?
CNC milling has some key advantages in precision component manufacturing.
One of them is its unparalleled accuracy and precision, as computer-controlled machines can perform complex milling operations with minimal human error. This technology allows for the production of highly complex and detailed components, meeting strict tolerances and specifications.
CNC milling also provides excellent repeatability, ensuring consistent quality during large-scale production operations. The versatility of CNC milling machines enables them to process various materials from metal to plastic, thereby expanding their applicability in various industries.
In addition, the automation and programmability of CNC milling can help improve efficiency, shorten production time, and easily adapt to design changes, making it the cornerstone of precision component manufacturing.
How Does CNC Milling Differ from Traditional Milling Techniques?
The main difference between CNC milling and traditional milling technology lies in automation, accuracy, and flexibility. In traditional milling, manual control and adjustment of the milling machine rely on the skills and experience of the operator. On the other hand, CNC milling involves computer numerical control, where the computer system guides the cutting tool and precisely coordinates its motion.
Hongyong Machinery will tell you the specific differences.
Automation: In CNC milling, the entire machining process is automated and controlled by computer programs. Compared to traditional milling, this eliminates the need for continuous manual supervision and intervention, thereby improving efficiency and reducing labor demand.
Precision and accuracy: CNC milling machines provide unparalleled precision and accuracy during the machining process. Computer controlled systems can perform complex tool movements with high repeatability, ensuring consistent and accurate results. Traditional milling relies more on manual operations and may have limitations in achieving the same accuracy.
Complexity and versatility: CNC milling excels in handling complex geometric shapes and complex designs. The ability to program and control the motion of multiple axes allows for the production of highly detailed components, which may be challenging for traditional milling. CNC machine tools are also universal and can easily adapt to different machining tasks through program modifications.
Efficiency and productivity: CNC milling improves efficiency and productivity by achieving continuous and uninterrupted processing. The automation characteristics of CNC systems allow for faster tool replacement, optimized cutting speed, and reduced downtime between tasks. Traditional milling relies on manual adjustment and may experience slower processes and longer setup times.
Consistency and Repeatability: CNC milling ensures that the results of multiple production runs are consistent and repeatable. Once a program is established, it can be easily copied for the same component. Traditional milling is influenced by manual factors, which may lead to differences between different operators and operations.
Adaptability to design changes: CNC milling machines have strong adaptability to design changes. Modifying the program can quickly adjust the tool path and processing parameters, improving the flexibility of the production process. Traditional milling settings may require more time and effort to adapt to design changes.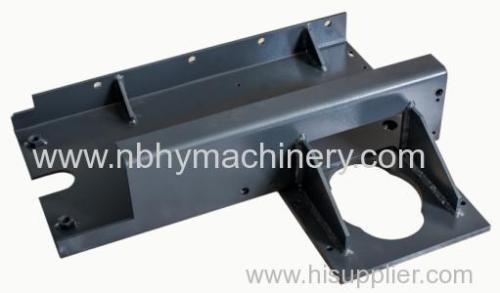 What Types of Materials Can Be Effectively Processed Using CNC Milling Machines?
Metals, including aluminum, steel, stainless steel, brass, and titanium.
Different types of plastics, such as ABS, PVC, and acrylic, can be easily ground and used in the automotive, aerospace, and consumer goods industries.
CNC milling is also effective for various composite materials, including carbon fiber and glass fiber, which are commonly used in industries such as aerospace and ocean.
Wood and its derivatives, such as plywood and medium density fiberboard, are applied in the furniture and woodworking industries through CNC milling.
In addition, CNC milling machine can process professional materials such as foam, composite materials and some ceramics.